Reading (Education): Good auditory skills have amongst others, significant benefits for learning reading. This month our facilitators focus on auditory perception and how to apply it in shared reading. These listening skills are practiced by playing auditory games with the children on a regular basis and then reading a story with questions that follow on from what they have just read.  The Grade R – 3's focus on sounds at the start and ends of words, while the Grade 4 – 7's play more advanced auditory games and then using reading sheets, take part in group and shared/paired reading followed by questions relating to the text.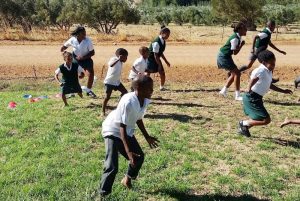 Running (Sport): The children continue with the active, fast-paced games – all of which are aimed at increasing speed at getting those heartrates pumping whilst building core strength. Of course, it's all a lot of fun and there are always shrieks of laughter and cheering to be heard!
Once a month the facilitators test the children's fitness levels by timing them through an endurance run, sprints, planking, and counting how many sit-ups can be done in a minute. These results are recorded and can be compared each month to track their fitness progression.
Righting (Life Skills):  This month the facilitators focus on their intention for their drama lesson, this being the goal or vision that guides their activities and choices. Instead of blindly following a prescribed lesson plan, facilitators are supported in identifying one skill that their group of children find particularly challenging. They're then trained to pick games from their drama packs that address and practice that specific skill.
Working with intention has a great influence on the way in which the activity is experienced by both the facilitator and the children. It is, however, in itself a skill that requires patience and practice and will therefore remain our focus for many months to come.  We are excited to see how our facilitators – and ultimately our learners – maximize their potential by working with intention!