The Anna Foundation children have received 10 brand new Silverback mountain bikes through Adrenalin on Friday 11th August 2017 starting at their Simonsig Winery afterschool programme as well as 50 commuter bicycles from Qhubeka at two of their other farms Klawervlei Stud in Bonnievale and Monteith Trust in Grabouw. All of this made possible by Absa Cape Epic funding.
As part of Anna Foundation's Sports programme riding has become more important, parallel to the growth of the biking world in the Boland. The Foundation is one of the beneficiaries of the Cape Epic and has also opened up bike tracks on their afterschool farms and provide as many kids as possible with mountain bikes for sport as well as commuter bicycles to transport to their schools and sporting programmes.
The Silverback Mountain Bikes were sourced by the riding legend Willie Engelbrecht and his company Adrenalin Bikes. Willie is also committed to getting kids riding. Pierre Olivier, COO of the Anna Foundation and partner cyclist of Willie Engelbrecht at the Cape Epic 2017, was delighted to receive the bikes at the Anna Foundation and looks forward to starting the programme with one of our participating wine farms Simonsig.
Another new initiative is to partner with Qhubeka Bikes which is another Non Profit beneficiary of the Cape Epic, which manufactures commuter bikes locally using l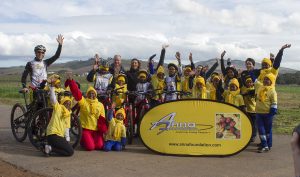 ocally trained staff for skills development. Qhubeka 'moves people forward with bicycles'. People earn bicycles through their programmes, improving access to schools, clinics and jobs. Qhubeka has sponsored 50 bikes to the Anna Foundation – 14 bikes already delivered to Klawervlei Stud near Bonnievale on the 3rd August 2017 as well as 36 bikes to the Monteith Trust in Grabouw still to be delivered on the 17th August 2017.