Since 26 March 2020, South Africa has been in national lockdown to prevent the spread of the novel coronavirus COVID-19. With Anna Foundation's after-school projects closed temporarily, our teams have been working on ways to best access our students in their homes to provide ongoing tutelage despite the physical absence.
The majority of learner' families lack digital connectivity in their homes and tend to access internet on smartphones using pay-as-you-go data. For this reason, we started off by sharing short, low-resolution video clips via WhatsApp from our facilitators. These clips demonstrated fun, educational activities for parents to carry out with their children, spanning key areas of maths, language and movement.
When it became apparent that lockdown was to be extended and the reopening of schools not yet on the cards, we began to rework our curriculum in order to print and deliver weekly material to each child in our project, along with a pack of stationery to see them through the home learning period.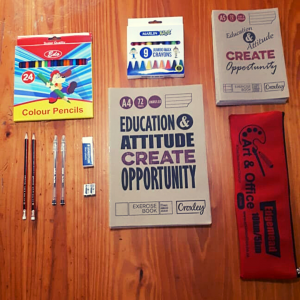 With the lowering of the nation's lockdown to Level 4, the Anna Foundation has the official go-ahead to distribute this weekly educational material to our communities. Starting Friday 8th May 2020, we are delivering a 'work pack' to each child. At the end of each week, we will return with a fresh pack and collect the previous week's completed homework so that we can mark and provide feedback accordingly.
We know that we cannot expect parents or caregivers to provide the same level of teaching to children as our trained facilitators, so we have altered certain worksheets and included a few more relaxed handouts to make learning fun.
In this time of great uncertainty, the need for care, nurture and ongoing education does not diminish. It is a key priority of the Foundation to ensure that our children continue to be supported in all ways possible and that they do not feel forgotten or left behind.