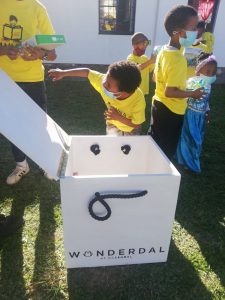 Life in lockdown has been long but on Thursday 16th July it felt like Christmas had come early when a beaming Blanche from Hazendal Wine Estate arrived at our Kanonkop afterschool project with a large wooden box full of educational games, activities and reading books.
Throwback to a 'Night of Wonders' – a Benefit Gala and Auction hosted by and at Hazendal Wine Estate to raise awareness of the importance of youth education through play – Anna Foundation was privileged to be chosen as a primary charity and beneficiary of 30 specially designed 'Wonderboxes'.
The material inside each box was carefully selected by the Hazendal team. Encompassing natural sciences, technology and life skills, the larger-than-life toy boxes reflect the edutainment experience offered at their interactive Edutainment Centre, Wonderdal, an immersive and interactive edutainment experience for children aged 5-13.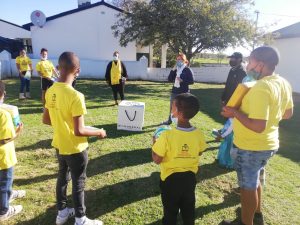 Wonderdal recently hosted an on-site training day for Anna Foundation facilitators and project managers to familiarise themselves with the wide range of activities, so that the activities can be incorporated into the programmes at our afterschool centres across the Western Cape.
It certainly was an afternoon of wonder at Kanonkop that offered some laughter, fun and light relief for both young and old. The Foundation looks forward to introducing the Wonderboxes to all of our centres in the coming months, and we are very grateful to Hazendal for their generous and thoughtful contribution. Thank you!